Thank you for this year ECS Syd!
With a comprehensive conference program, a solid exhibition and two days of business, we are glad to say that the premiere of ECS Syd was successful!
We had well-visited sessions - our keynote speakers Stephen Bryant from Telenor Connexion and Dr. Alex Jonsson from Evothings, amongst other, attracted a pleased audience and we hope that ECS Syd will be a reccuring event within the important embedded sector and a great complement to ECS in Stockholm.
We would also like to take this opportunity to thank all exhibitors, visitors, speakers and partners for making ECS Syd a great meetingplace.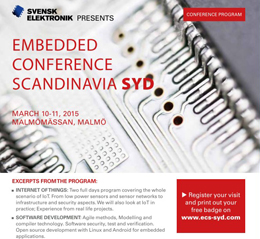 Have a look at the conference program!
The conference program at ECS Syd offered the very latest within embedded technology. See the program
here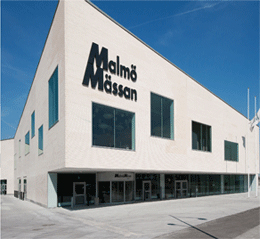 Malmömässan - The right place for ECS Syd
Malmömässan with its strategic location in the heart of Öresund region, was the perfect venue for ECS Syd where companies from the important area in southern Sweden and Denmark met to do business during ECS Syd.